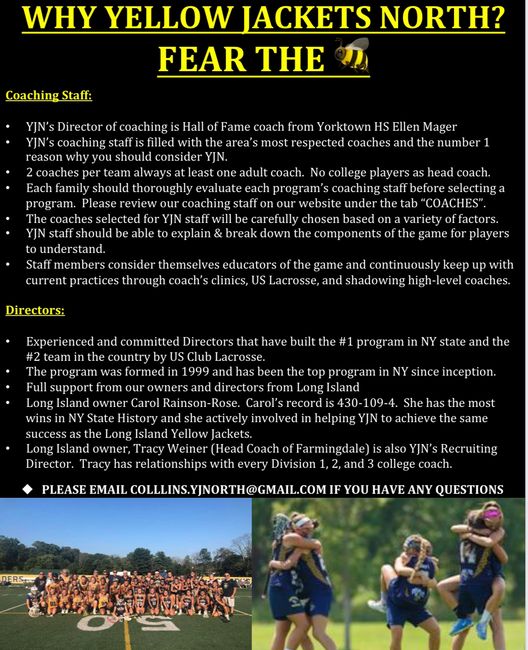 Coaching Staff:
YJN's Director of coaching is Hall of Fame coach from Yorktown HS Ellen Mager
YJN's coaching staff is filled with the area's most respected coaches and the number 1 reason why you should consider YJN.
2 coaches per team always at least one adult coach. No college players as head coach.
Each family should thoroughly evaluate each program's coaching staff before selecting a program. Please review our coaching staff on our website under the tab "COACHES".
The coaches selected for YJN staff will be carefully chosen based on a variety of factors.
YJN staff should be able to explain & break down the components of the game for players to understand.
Staff members consider themselves educators of the game and continuously keep up with current practices through coach's clinics, US Lacrosse, and shadowing high-level coaches.
Directors:

Experienced and committed Directors that have built the #1 program in NY state and the #2 team in the country by US Club Lacrosse.
The program was formed in 1999 and has been the top program in NY since inception.
Full support from our owners and directors from Long Island
Long Island owner Carol Rainson-Rose. Carol's record is 430-109-4. She has the most wins in NY State History and she actively involved in helping YJN to achieve the same success as the Long Island Yellow Jackets.
Long Island owner, Tracy Weiner (Head Coach of Farmingdale) is also YJN's Recruiting Director. Tracy has relationships with every Division 1, 2, and 3 college coach.